Enhance Your Practice with the inHarmony Practitioner
Create a deeply centering mind-body experience using vibro-tactile stimulation and vibroacoustic sound
inHarmony Practitioner
The inHarmony Practitioner  was designed specifically to augment bodywork and hands-on modalities with vibration therapy. It creates a deeply centering mind-body experience using vibro-tactile stimulation and vibroacoustic sound. 
Uplevel your clients' physical experience with Vibration Therapy. Chiropractic, bodywork, massage therapy, kinesiology, acupressure, acupuncture, hypnosis, NLP, holistic healing and addiction recovery can all get a powerful upgrade with inHarmony tech. The addition of tactile transducers, speakers and/or headphones can be used before, during or after your regular session to help calm, sooth, or integrate your work.
Introducing the inHarmony Practitioner
Enjoy these benefits of the inHarmony Practitioner:
Relaxation
Muscle Recovery
Sleep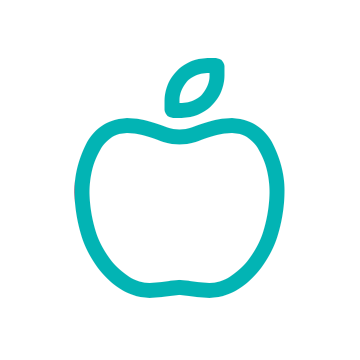 Weight Loss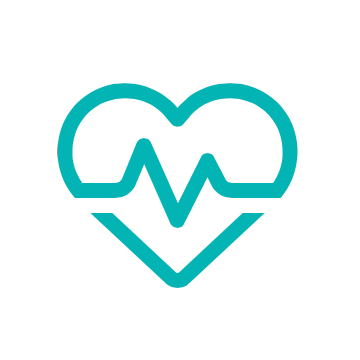 Heart Health
Immunity
Detox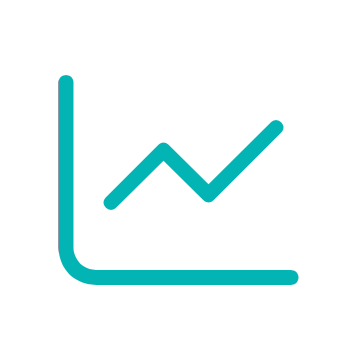 Anti-Aging
Circulation
Reduce Stress & Anxiety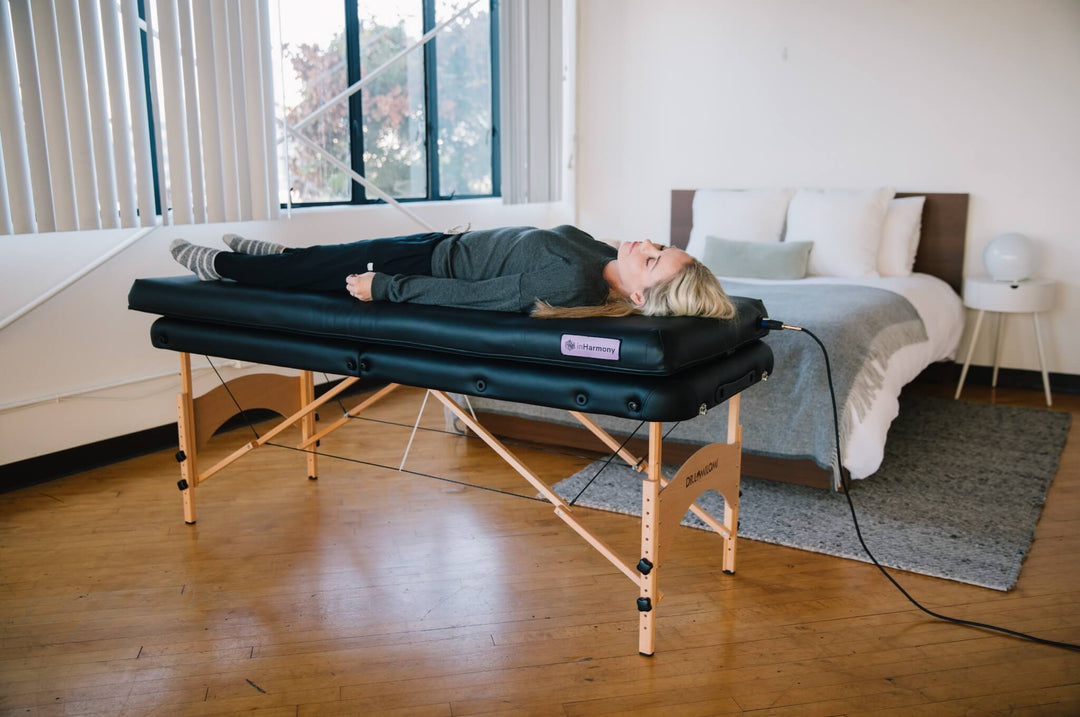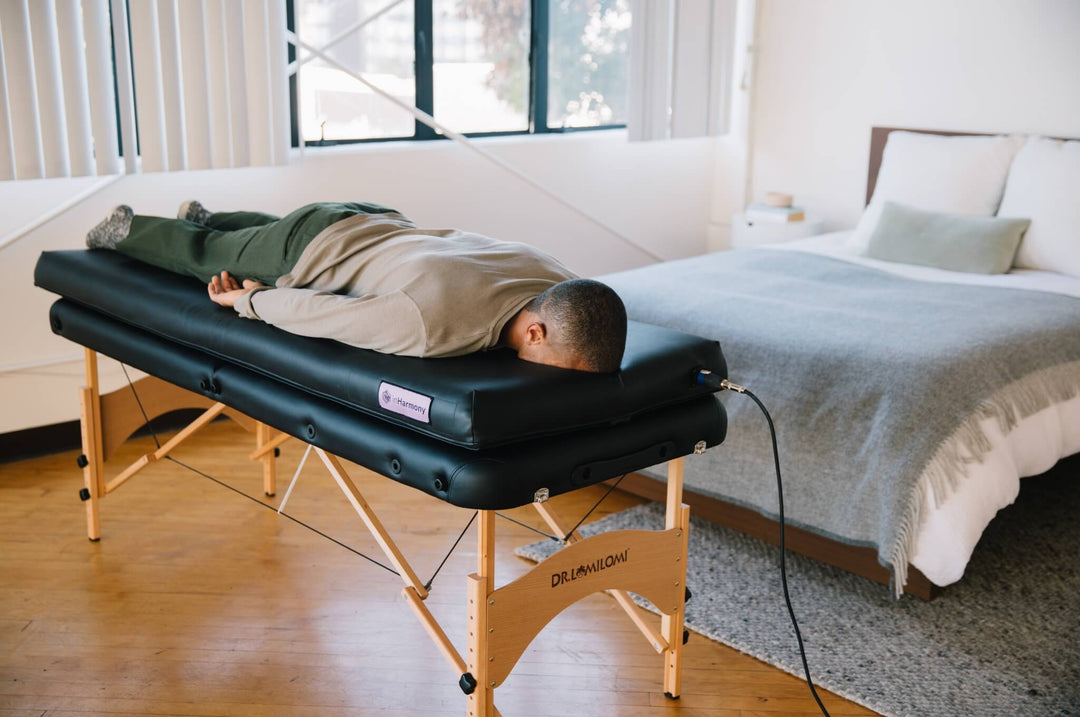 inHarmony Practitioner
Technical Specifications
PRACTITIONER
2 Tactile Transducers
(Frequency Response 20-200 Hz)
SPEAKER
Model: Bluetooth Wireless Speaker
Frequency Response: 100 - 20,000 Hz
WIRING KIT INCLUDED
(1) 6.5mm to RAW Cooper
(1) 6.5mm to 3.5mm input cable
(1) 6.5mm to RCA
(1) 3.5mm to 3.5mm
* Plus additional cables and connectors for additional configurations.
PRACTITIONER AMPLIFIER
Model: SMP100 (100 Watts)
Dimensions: 5.7 × 2 × 6.1 inches
Power: 120/240 Volts
Weight: 2lbs
HEADPHONES
Model: Sennhieser HD 206
Frequency Response: 21 - 18,000 Hz
HEADPHONE AMPLIFIER
Model: Behringer Microamp HA400
Dimensions: 4.08 × 2.25 × 1.83 inches
Power: 120/240 V with Adapter
Weight: 13.1 ounces
Wellness is Within Reach
Your health and wellness are important to you. You want to feel better so you can do more and live fully. We live to help others experience the health transformations we have by bringing our technology to people everywhere. The magic of our patented system of tech-assisted sound and vibration therapies will help you to quickly and comfortably reach a deeply relaxed state.
★★★★★

"I love my practitioner. I put it on top of a cot in my living room. Time goes by so fast when I use it. It's very relaxing and has helped me a lot with stress and relaxation. It gives me a reset feeling and I'm usually in a better mood after a session."

Deborah E.
★★★★★

"My clients absolutely love the addition of the VibroAcoustics. It's just next level! My only regret is that I didn't get it sooner. Highly recommend!"

Elena S.
★★★★★

"I offer my clients sessions on the practitioner as an option after they receive reiki or biofield tuning. They really seem to enjoy the added relaxation it offers. The Practitioner is very easy to use."

Corrine G.
★★★★★

"An amazing addition to any wellness practice that utilizes a massage/physical therapy table. The sky's the limit on how to incorporate this technology into your practice."

Melanie
FAQs
The dials control the dual amplifiers, volume and gain for the speakers, transducers, and headphone/aux out. There will be aux and headphones out. You will be able to daisy chain multiple units together. We will have Bluetooth in. So you can connect your phone to the unit and use it like a bluetooth speaker. You will be able to purchase a separate adapter through your favorite electronics store to support Bluetooth headphones if you wish.
No, the unit runs off a standard 120v/220v power cable.
inHarmony Interactive Limited Product Warranty
Yes! Please read the following warranty information for important disclosures before using your new inHarmony product. It is the mission of inHarmony Interactive, Inc. to design, develop, manufacture and sell innovative, high quality products that harmonize the mind, body, and spirit in service of one and all. We appreciate your commitment to our mission and our products and are pleased to let you know that the inHarmony product that you purchased comes with a limited warranty. The warranty provides peace of mind you are covered for components and defects in workmanship within the coverage guidelines and limitations outlined below. Coverage guidelines:
We will warranty the mattress, cushion, platform and parts for 2 years when returned to our warehouse in San Diego. After 2 years, the customer pays labor charges and for parts needed to complete the repair.
Electronic components are warranted by their manufacturer – i.e. amplifiers, headphones, and cables.
Customer should complete warranty cards on all components individually when received and contact the manufacturer directly for repairs or replacements of a component.
Freight charges to the warehouse & back to the customer are the customer's responsibility.
The warranty begins on the original purchase date and consists of:

WARRANTY *Factory Service &**Parts
inHarmony Product,  2 years 
Electronic Components & Platform (Warranty as offered by component manufactures)
 *Factory Service (Labor): inHarmony Interactive, Inc. will repair parts covered by this warranty and labor for repair work and return to customer when repairs are completed.
**Parts Only (Parts): inHarmony Interactive, Inc. will supply repair parts that are covered by this warranty to customer for repairs performed at the factory.
 Product Faux Leather Cover 
The cover is warranted for 60 days against "material defects". This does not include: stains, snags, ordinary wear & tear and abuse. Replacement covers can be purchased if needed. Repairs to seams and zippers can be done by the factory. ("Parts, Labor & Shipping" charges apply.)
In the unlikely event that your inHarmony product malfunctions or requires repair, please contact our customer service at (888) 276-8040 or Support@iaminHarmony.com for assistance.
 All warranty service requires approval and authorization by inHarmony Interactive, Inc. Prior to providing warranty approval we first trouble shoot the issues by video or video conference. Once we identify the issues we take the appropriate steps to replace the needed parts. Products require a Return Merchandise Authorization Number (RMA) for any returns to the warehouse. For returns, the customer is responsible for packing the product in the original box or in approved packaging. Shipping and freight outbound and inbound charges under this warranty is the responsibility of the customer. Products received without a valid RMA number or one clearly marked on the box will be refused.
 General Limitations:
The warranty is only valid provided the product has been operated in accordance with the user guide and has not been misused or damaged in any way that is beyond the control of inHarmony Interactive, Inc.
 All service covered by this warranty must be approved by inHarmony Interactive, Inc. and repairs performed by authorized technicians.
 The warranty applies only to inHarmony products (Sound Lounge, Practitioner, and Meditation Cushion). The accessories or enhancements are not covered.
 Important exclusions apply to cosmetic items such as fabrics, woods, foams, padding, plastics covers, etc.
 inHarmony Interactive Inc. is not responsible in any way for losses, damages, or inconvenience caused by equipment failure.
 Separate warranty terms apply to used/refurbished products including those received out-of-box.
 Proof of purchase (original receipt) is required for all warranty repairs.